Announcement: I have finally gotten my stuff sorted and made a tentative blogging schedule for myself. Woohoo!
In case you're interested:
Mondays = book reviews
Wednesdays = bookish posts
Fridays = writing posts / crafty posts (switching out every other week)
Rather ambitious, eh? We'll see how long it lasts.
So let's start things off with the writing posts! I've been super into my writing lately. I write mainly fanfiction, in various fandoms, but I have ventured into original fiction a little–and that is my eventual goal. I've been writing (on and off) for about five years now.
I saw the Beautiful People writing meme on Cait Paperfury's blog, and thought, this is the PERFECT way to introduce my writing on my blog and talk about some basic writerly things. The meme is hosted by Cait and Sky, and it's a monthly linkup, so check it out if you're interested in joining in.
Here we go!
>>>>>>>>>>>>>>>>>>>>>>>>>>>>>>
1. How do you decide which project to work on?
I'm not the type that's constantly overflowing with ideas, so these sorts of decisions aren't too hard for me. When I'm in the mood to tackle one of my projects, I'll just go with whichever one I'm most enthusiastic about at the moment and then commit to it!
I'll try to make daily progress on it. If a day comes when I need a break and want to work on something else, I'll give myself that time. But the next day, I'll get back to the original project and (hopefully!) see it to its completion!
2. How long does it usually take you to finish a project?
It TOTALLY depends on what I'm writing. Within my fanfiction writing career, I've written many one-shots and a few longer novellas / chaptered fics. The one-shots might take me a week or two to write and polish up. The longer works tend to take me a LONG time. Like the better part of a year or more. It all depends on my motivation and my Real Life schedule.
3. Do you have any routines to put you in the writing mood?
Not usually! Sometimes I'll go on Pinterest to work on my story board and get some visuals for the scene I'm writing. But other than that, I just tell myself to sit down, open the doc, get my hands on the keyboard, and type.
(Anyone else use the BICHOK technique?!)
4. What time of day do you write best?
Morning or afternoon. I am so much more motivated and productive in general at the beginning of my day. Also, I find it really satisfying to accomplish a writing goal before noon. It makes me feel like there is so much potential for the rest of my day!
I do NOT write well at night. I'm always too tired, sluggish, and lazy. Most of the time I won't even open up my writing document if it's past 8:00pm.
5. Are there any authors you think you have a similar style to?
This is a tough question, mostly because I don't really look at myself as a real author. I've never even THOUGHT to compare myself to a real author. Even considering it now makes me feel so pretentious.
I will say in general, I'm definitely NOT a flowery writer. I'm more straightforward and concise, I think? At least I try to be?
6. Why did you start writing, and why do you keep writing?
I started writing because I would daydream all the time during school, and I wanted to put those stories onto paper. Also, sometimes I couldn't find the sorts of things I wanted to read, so I decided to write them myself.
I keep writing because I like the challenge and the satisfaction it gives me. Also because I want to get better, and it's always been a dream of mine to publish a novel.
7. What's the hardest thing you've written?
Possibly my current project??? I'm not sure. My current project is a fantasy fanfiction, and when I first started it, I didn't know where it was going and ended up setting it aside for a few months. When I came back to it, I had to do a lot of planning, outlining, and brainstorming to come up with the plot I have now. I'm proud of what came out of all of that work, but it's taking even MORE work to get all the words to come out right on the page.
I'm also putting more pressure on myself for this project, just because I want to see if I can really write something more complex and detailed and fantastical like I've always wanted to do.
8. Is there a project you want to tackle someday but you don't feel ready yet?
Probably writing a real original fiction novel to publish and fulfill that lil dream of mine. I don't think I'm a good enough writer, nor do I know if I ever will be. For now, fanfiction is my comfort zone, and I like the platform it gives me for sharing my work and receiving feedback.
Someday, I'll stick my toes out there and attempt something original. I'd love to do something that has to do with sisterhood.
9. What writing goals did you make for 2017 and how are they going?
So I looked this up on my fanfic blog, and here are the goals I wrote:
Finish my WIPs
Work on character development
Write and publish something without overthinking it
I'm currently in the process of working on my 2 WIPs. I have worked some on character development…I think? I could do more.
As for writing and publishing without overthinking it…L O L. Great idea, Brianne. Totally not going to happen, but sure, you can try.
10. Describe your writing process in 3 words or a gif!
I want to be: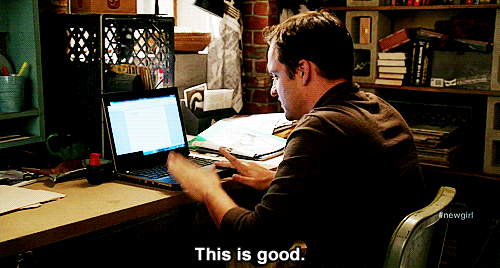 But most of the time, I'm:
>>>>>>>>>>>>>>>>>>>>>>>>>>>>>>
And that's it, my first ever writing post. If you made it this far, did you find this post interesting? No? Eh? I should probably just stick to books, shouldn't I.
Until next time,
Brianne